Honors and Certifications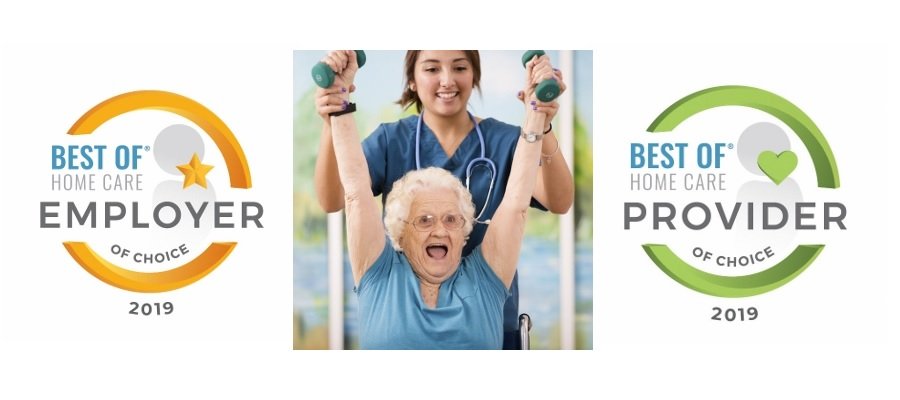 HIRED HANDS HOMECARE Receives 2019 Best of Home Care® – Provider and Employer of Choice Awards
 Novato, CA – Hired Hands Homecare is proud to announce today that it has received BOTH the 2019 Best of Home Care® – Provider of Choice and Employer of Choice Awards from Home Care Pulse. These awards are granted only to the top-ranking home care providers, based on client and caregiver satisfaction scores gathered by Home Care Pulse, a national Quality Assurance firm. Hired Hands Homecare is now ranked among a small handful of home care providers across the country who have proven their ability to provide an exceptional working experience to employees and the highest quality care to clients. Contact us online or call us at (866) 940-4343 to learn about how we can help your family
"We want to congratulate Hired Hands on receiving both the Best of Home Care – Provider of Choice Award and the Best of Home Care – Employer of Choice Award," says Erik Madsen, CEO of Home Care Pulse. "Since these awards are based on real, unfiltered feedback from clients and caregivers, Hired Hands] has proven their dedication to providing a great work environment and solid training to employees, while maintaining their focus on client satisfaction. We are pleased to recognize their dedication to quality professionalism and expertise in home care."
Best of Home Care providers have contracted with Home Care Pulse to gather feedback from their clients and caregivers via live phone interviews each month. Because Home Care Pulse is an independent company, it is able to collect the most honest and unbiased feedback.
"Since our beginnings in 1994, our company philosophy has been clear and simple.  Happy and fulfilled Employees will consistently deliver the highest quality care to the clients and families we serve," says Lynn Winter, CEO.
"Our goal at Home Care Pulse is to empower home care businesses to deliver the best home care possible," says Erik Madsen, CEO of Home Care Pulse. "We are happy to recognize HIRED HANDS HOMECARE as a Best of Home Care award-winning provider and celebrate their accomplishments in building a team of happy, qualified caregivers who provide outstanding care for their clients."
To find out more about Hired Hands' commitment to excellence, please visit HiredHandsHomecare.com or call 415-884-4343.
About Hired Hands Homecare
Hired Hands is a family owned and operated senior care firm founded in Mill Valley, CA  in 1994.  The company now operates four locations, proudly serving the communities of Marin, Napa, Sonoma * The Tri-Valley area, with the dual purpose to provide outstanding employment opportunities for our employees, while delivering the highest levels of care and customer service to the seniors and families that we serve.  Hired Hands celebrates their 25th Anniversary this year, and is extremely proud to add these two coveted awards to their extensive list of accolades received over the years.
About Home Care Pulse
Home Care Pulse is the home care industry's leading firm in satisfaction research and quality assurance. On behalf of home care businesses across North America, Home Care Pulse gathers unbiased satisfaction ratings from clients and caregivers and detailed feedback to ensure the best in-home care possible can be provided. Powerful online reports allow businesses to identify needs and take action to reduce increase satisfaction, reduce caregiver turnover, and address client needs. For more information, please call Home Care Pulse at (877) 307-8573 or visit homecarepulse.com.
###
HIRED HANDS HOMECARE – Pleasanton Wins Prestigious READERS'CHOICE Award! 
Wow, what an amazing honor!  For the SECOND time, the fine folks of Pleasanton, Livermore & the Tri-Valley have bestowed Hired Hands Homecare as the community's BEST Home Healthcare in the Pleasanton Weekly!  As they so eloquently put it…  "Readers' Choice winners yet again, Hired Hands Homecare provides senior care assistance to help locals maintain their independence as they age — and the clear communication and genuine care provided by Hired Hands obviously resonates with clients."  We could not agree more!
This wonderful award goes to our entire team of phenomenal Caregivers!  It is their tireless dedication, compassion, and professionalism that truly set us apart, and allow us to WOW the seniors and families that we serve!  Our Caregivers truly Exceed Expectations!
Erin, Courtney, and the entire Hired Hands Homecare Team Pleasanton will wear this badge with Honor!
###
HIRED HANDS Wins Prestigious BEST of The North Bay!

Thank you to our community for nominating and voting HIRED HANDS Team Napa as the 2018 Best Home Healthcare Provider for Napa County. This is a huge complement to our Management Team and Outstanding Caregivers who share this honor!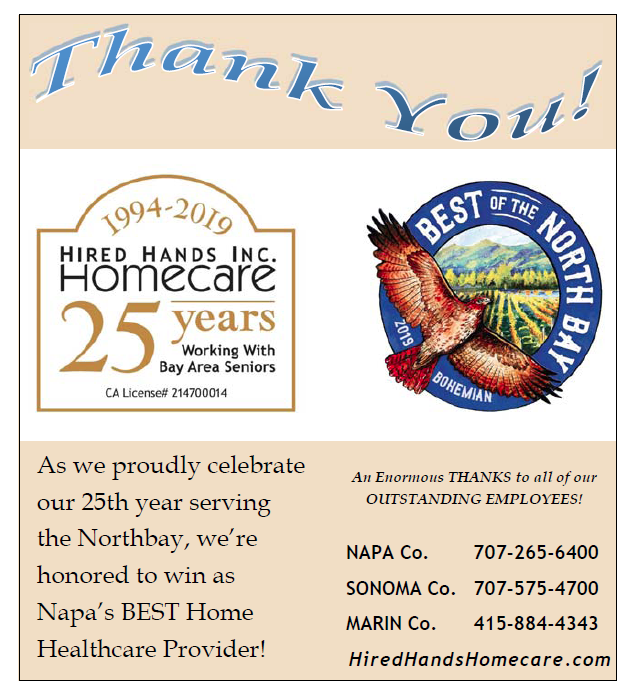 Home Care Pulse Certification for quality of care, service, and satisfaction of clients and employees. Home Care Pulse measures an agency's client satisfaction with caregiver work ethics and training, and agency service and communication. Employee satisfaction is measured by caregiver morale and overall satisfaction with work environment and agency support.

BEST OF HOMECARE 2013, 2014, 2015.   Hired Hands has been awarded Home Care Pulse's prestigious "Best of Home Care" status for 3 consecutive years. This recognition is granted to only select agencies nationally that rate in the top percentile in client and employee satisfaction ratings, ranking Hired Hands Homecare among the best caregiving companies in the country.
Home Care Aide Organization Certification from CAHSAH, the California Association for Health Services at Home.  CAHSAH developed a certification program to provide oversight of the home care industry in a state that has not yet adopted its own regulation. According to CAHSAH, its standards protect the consumer, while forming a solid basis for the highest level of care. Certification requires a thorough review of business practices, and mirrors much of the criteria used in those states that do require home care licensure, such as legally employing caregivers and providing workers' compensation, bonding, insurance, training and detailed criminal background checks. Our CAHSAH certification is a prestige Hired Hands Homecare is honored to hold.
Charter membership in the National Private Duty Association (NPDA), a national seal of approval within the private duty homecare industry for demonstration of NPDA's core values and professional best practices. Read about NPDA Member qualifications>>.  Please note that beginning in 2013, the NPDA has officially changed names to Home Care Association of America (HCAoA).  We are proud to work side by side in promoting our industry's best practices and guiding principles.
Better Business Bureau Accreditation, meeting the BBB Code of Business Practices which are built on the BBB Standards for Trust.  BBB is THE resource to turn to for objective, unbiased information on businesses. Their network of national and local BBB operations allows them to monitor and take action on thousands of business issues affecting consumers at any given time. BBB is your key adviser, most reliable evaluator and most objective expert on the topic of trust in the marketplace.  We are very proud of our A+ Rating as an Accredited Business.
Peoples Choice, during just our second year in business serving Pleasanton and the Tri-Valley. Hired Hands Homecare was voted Best Home Healthcare Service in Pleasanton Weekly's annual Readers Choice awards.