WELCOME Bay Area Caregivers!

Thank you for your interest in working with Hired Hands Homecare – we're happy you're here! Since 1994, we have lived by the motto that "Happy Caregivers Mean Everything!" Those simple words affect how we go about our daily business, and certainly are the reason why our clients receive the highest levels of care.
Why Should You Work For Hired Hands?
The Hired Hands Homecare team is a tight knit family of people with a common passion – helping others. We value our employees and strive to help them build fulfilling careers that they can be proud of. So, why should you become a Hired Hands caregiver?
We treat our employees like gold. Our caregivers are critical to our operations, and every valued employee is treated with the highest level of respect. Our caregivers have gone to great extremes to help others, and go out of your way to make a difference in people's lives. We wholeheartedly respect and honor that!
We seek to make strong bonds with our employees, and strive to be their primary employer, providing them with steady hours, top wages, and great benefits. Maybe this is why we have caregivers whom we've worked with for 10, 15 & even TWENTY years and more!  Join our team, and enjoy Paid Overtime and Holiday pay, Paid Vacation and Sick Leave, 401k with company match, paid healthcare, flex schedules, weekly direct deposit, referral bonuses… not to mention the daily satisfaction of helping others live safe and healthy lives!
We provide ongoing training to empower our caregivers to be the best!  Yes… Learn More and EARN MORE!  We practice ongoing staff education, management, appreciation and recognition to ensure our caregivers feel valued and satisfied with their work.
We are always accepting applications for compassionate, dedicated, trustworthy caregivers. If you are interested in applying for one of our California senior caregiver positions, click here to fill out our Online Application and tell us more about your skills, experience, and interests. Or call us at one of our 4 locations:
Marin County: 415-884-4343
Sonoma County: 707-575-4700
Napa County: 707-265-6400
Tri Valley: 925-621-7650
"I was besides myself with joy when I became apart of the Hired Hands Establishment; and each day grows more admiration! This is the best company I have ever worked for. I salute you for caring, knowing, listening, and just being!
I am very happy being a part of this Great Company and I will give all I have as I meet with each client!"
Thank You,
Harriett G.
Save
Save
Save
---
As we embark on Thanksgiving, we would like to extend an enormous and heart felt THANK YOU to all our our outstanding employees. Without their tireless dedication and compassion, we would... Read More »
---
We are honored to recognize Jessica L as our October Caregiver of the Month! 
Hired Hands Homecare has had the pleasure of working with Jessica since early 2019.  Since... Read More »
---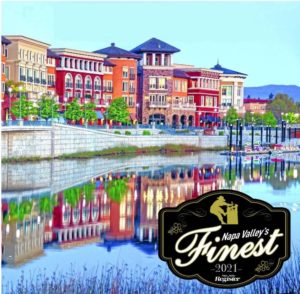 Hot off the Press…  Hired Hands Homecare wins NAPA VALLEY'S FINEST In-Home Healthcare Provider, as reported by the Napa Valley Register.
This award is a huge... Read More »
---
We're extremely busy… and are seeking to add outstanding new Caregivers to our Team!  Thus, we're bringing back our popular "$250 Times Two Referral Bonus" program!
Our Caregivers are like... Read More »
---
Hired Hands Homecare is excited to announce we have been nominated as NAPA'S FINEST, in the category of Homecare/Home Health in the Napa Valley Register!  This nomination is a... Read More »
---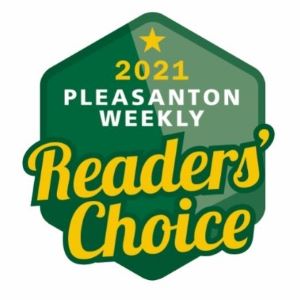 Wow, what an amazing honor!  For the THIRD time, the fine folks of Pleasanton, Livermore & the Tri-Valley have bestowed Hired Hands Homecare as the community's BEST Home Healthcare... Read More »
---
Today we have the pleasure of honoring Mr. Ian B as our Caregiver of the Month!  We have had the pleasure of working with Ian since 2018.  Ian joined... Read More »
---
We are ecstatic to announce and honor Ms. Kimberly McP as our June Caregiver of the Month!
Kimberly is such an amazing, caring, & kind person. ... Read More »
---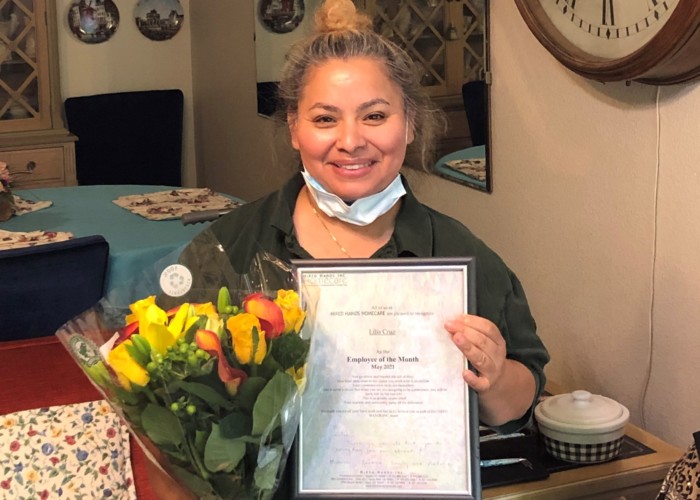 Please join us in congratulating Lilia for being our Caregiver of the Month for May!
Lilia has been with Hired Hands Homecare for over 4 years... Read More »
---
It was such an honor to go out and deliver recognition to Apple as our most recent Employee of the Month!  We have had the absolute pleasure of working... Read More »
---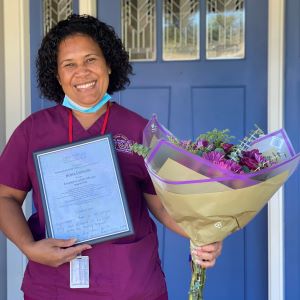 Please meet Lela! Hired Hands Homecare is pleased to honor Lela as our Caregiver of the Month for August. Lela is on our Live-in Team, and has been finding... Read More »
---
Please join us honoring Marcela as Hired Hands Homecare – Team Santa Rosa's Caregiver of the Month for October!
We have had the pleasure of working with Marcela since March... Read More »
---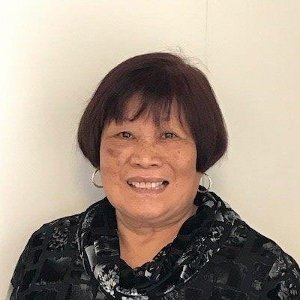 "Espy" has been a caregiver for over 25 years!  She became a caregiver after retiring from her career as a school principal in the Philippines. Espy loves working with... Read More »
---
Lacey has been a caregiver for 2½ years.  Prior to working with seniors, she was a Nanny, working with small children.  She earned her CNA and is currently working... Read More »