7 Ways In-Home Care Can Promote Senior Medication Compliance
---
---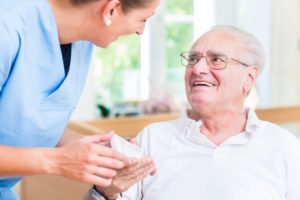 While many of us may think we're following the rules with regard to taking our prescriptions, medication adherence mistakes actually occur quite frequently, and the effects can be devastating – especially when it comes to mistakes with elderly prescriptions, which often result in hospitalization. In other cases, older adults intentionally avoid following the doctor's orders for their medications – such as by taking only half of the prescribed amount to save money and make the medication last longer, or by stopping the medication altogether, feeling as though they don't need it or because of unwanted side effects.
It's vitally important to be sure that a medication is always taken exactly as prescribed, and never stopped or modified without first consulting the prescribing doctor. Yet for a senior's busy family members, it can be overwhelming to stay on top of their loved ones' medication routine and make sure it's being followed correctly.
If your senior loved one could use some help with managing medications, an in-home senior caregiver can truly be a lifesaver. Hired Hands Homecare, the experts in home care in Sonoma, CA, offers services that help keep older adults on the path to proper medication compliance. For instance, our caregivers can:
Communicate with and coordinate between health care professionals—including keeping all involved updated on all of the medications the older adult is taking.
Teach the importance of taking medications correctly and provide reminders to take them.
Arrange for delivery of elderly prescriptions through mail order and/or provide transportation to pick up prescriptions at the pharmacy.
Check for contraindications before new medications are picked up for the client.
Record details from the label of each prescription and keep track of warnings and potential side effects.
Help with the use of a pill organizer and/or an automated medication reminder system.
Put a system in place for ensuring that medications were taken.
In-home caregivers can also provide safe, reliable transportation for seniors and escort them to their medical appointments. During appointments, caregivers can provide the medical professionals with a record of all medications being taken, take notes to make sure nothing falls through the cracks, and then communicate with the pharmacist if the older adult has any special needs, such as liquid medicine instead of hard-to-swallow tablets.
At Hired Hands Homecare, we provide the professional in-home care services and assistance to help promote seniors medication compliance for improved health and overall wellbeing. Contact us at (866) 940-4343 to learn more about how our top-rated home care in Somoma, CA can help your loved one.
---
---