Delicious!
---
---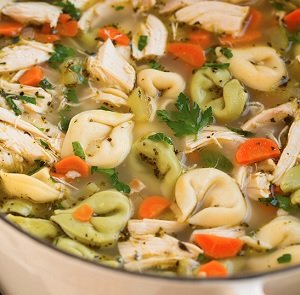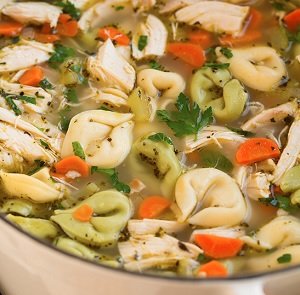 It's that time of year where a warm & tasty bowl of healthy soup just soothes the soul!  This recipe is quick and easy, and can be adapted easily to suit particular tastes.  On top of that… The Health Quotient is high, and the calorie count pretty low.  Give it a try, and let us know what you think!
Ingredients
1 1/2 Tbsp olive oil
1 1/2 cups chopped carrots (from about 5 medium)
1 cup chopped celery (from about 3 stalks)
1 cup chopped yellow onion (1 small)
4 cloves garlic, minced
4 (14.5 oz) cans low sodium-chicken broth
1 1/2 tsp Italian seasoning or thyme
Salt and freshly ground black pepper, to taste
12 oz refrigerated three cheese tortellini*
1/2 cup packed parsley (stems and all), plus more for serving
2 1/2 – 3 cups shredded rotisserie chicken (from one 29 oz chicken)
Directions
Heat olive oil in a large pot over medium heat, add carrots, celery and onion and saute 3 – 4 minutes. Add garlic and saute 30 seconds longer. Stir in chicken broth, Italian seasoning and season with salt and pepper to taste. Bring to a boil over medium-high heat then cover and boil 5 minutes. Add tortellini and place parsley in a mound submerged into broth on top of tortellini, cover and boil 6 – 8 minutes longer (or one minute less than time listed on package). Using tongs, remove parsley (I stirred it around in the soup first just to get all the flavor out). Stir in chicken and cook until heated through, about 1 minute. Serve warm, topped with chopped fresh parsley leaves.
*If you don't want to buy the larger package of tortellini you can use a 9 oz package and reduce the chicken broth to 3 (14.5 oz) cans and chicken to 2 cups (which will give you about 4 servings).
You can adapt this base recipe in a number of ways to suit your particular tastes:

Right before serving, add a large bunch of fresh spinach, stir into soup, and let cook for another couple of minutes.  Even more healthy!
For a little spice, add crushed red pepper while soup simmers.
For a creamier version, add 8 oz. heavy cream.
---
---