Financial Problems Can Affect Quality of Life
---
---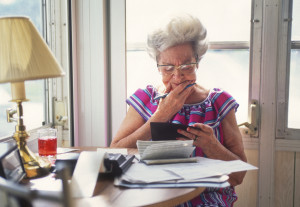 Everyone approaches their finances in different ways – some people are frugal, others spend-thrifts, and most people are somewhere in between. But no matter how we manage our money, there's always a possibility that we can go off track, make a bad decision, or start having difficulties in doing financial tasks, like paying bills.
For some seniors, finances may represent independence, and any suggestion that they may be having difficulty managing their money may make them fear a loss of that independence. As well, they are from a generation that was often taught that you don't discuss money, that this is an intensely personal part of life. That being said, difficulty managing money can be a sign of cognitive decline, and an indication that in-home health services may be needed.
So how can you make sure your loved one is able to manage financially? Here are some tips:
Watch for signs that may indicate financial problems (bounced checks, unpaid bills, etc.).
Watch for changes in financial behavior, or stress or worry about finances.
Pay attention to new "friends" and people who have taken an interest in your loved one.
Encourage your loved one to use professional advisors for taxes and investments who they have sought out, based on references, not who approached them. Also, they should be encouraged to keep business affairs with professionals and not with friends or family who may have a hidden agenda, despite claims of financial ability.
Encourage use of automatic payments, so there is one less thing for your loved one to worry about.
Watch how cash is being used. Are large gifts given to people who stay close to them, such as neighbors, housekeepers, or caregivers?
Check credit cards for excessive or inappropriate use.
Monitor television or online purchases.
Ensure any computers in the home have updated safety software to reduce the risk of viruses or malware.
Put keepsake jewelry in a lock box or safe; do not leave them out.
Make yourself available to help when your loved one needs to speak to service people or has to make a large or expensive purchase.
Hired Hands Homecare  understands that many loved ones who fall victim to financial trouble need assistance. They need trustworthy companions and in-home care services from trained caregivers, who are supervised by professionals. As a top-rated home care company in California, we can help. We can provide caregivers who will provide companionship to your loved one, in addition to in-home care services such as personal care, light housekeeping, cooking, and transportation. Having trusted, professionally trained caregivers come into the home and be another set of ears and eyes can help you feel more at ease about your loved one's safety. Contact us  for a professional assessment to see what in-home care services we can provide for you or your loved one.
---
---