Skin Health
---
Of the many changes that occur in aging, increased bruising is one that can be frightening for family members to notice in their senior loved ones. While it's important to check with the senior's doctor whenever there's a concern with his or her health, it's also helpful to know that bruising in older adults is quite common, resulting from the thinning of the skin and reduction in fat experienced in aging. Even a slight bump or scrape can lead to much more extensive bruising than in younger skin.
Hired Hands Homecare offers the following tips to help reduce the chances for bruising, and to help heal bruising when it occurs:
Prevention:
Perform a safety assessment of the home, ensuring there are clear, wide walking paths with stumbling/tripping/bumping hazards removed. Hired Hands Homecare can help evaluate the senior's home for safety hazards as well.
Encourage … Read More »
---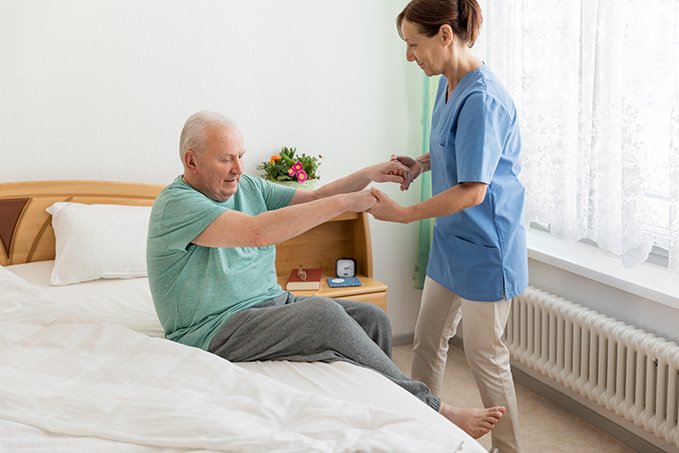 Impacting as many as one out of every ten older adults, and even more prevalent in those who smoke, suffer from chronic conditions such as diabetes, or whose skin is more fragile, bed sores (also known as pressure sores or pressure injuries) are not just extremely painful – they can quickly progress to infections that can spread to the bloodstream and even become life-threatening.
For those with limited mobility or who are bed- or wheelchair-bound, and those who care for them, the battle against bed sores can seem endless. Resulting from a lack of blood flow when remaining in one position for too long, it's imperative for those caring for a senior loved one to educate themselves about pressure sore prevention. Try some of these tips to help protect your loved one's vulnerable skin from these dangerous sores:
Frequent Position Changes
Hourly if … Read More »
---
As we grow older, our skin becomes drier and more fragile. According to Medscape, as many as 75% of older adults live with dry, flaky skin, which is not only easily damaged (bruised, scratched, or cut), but also often results in uncomfortable itching. This is why senior skin care is so important.
The most prevalent areas for dry skin in older adults are the elbows, lower legs, and forearms. For seniors who are less mobile than they used to be, dry skin may also have a role in the development of pressure sores from remaining in one position too long in either the bed or a chair.
Dry skin can also result from the loss of oil and sweat glands. If your senior loved one is experiencing the discomfort of overly dry skin, Hired Hands Homecare can help! Try these tips to … Read More »
---