Independent Home Care Enhances Socialization, Improves Cognitive Functioning in Seniors
---
---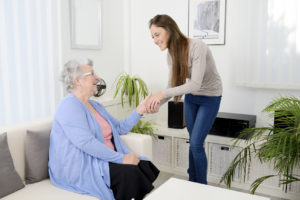 We all know that socializing with friends and family makes us feel better and more connected, but it's also true that remaining social later in life can play a role in fighting dementia. Older adults who stay social have a 70 percent reduction in cognitive decline, as compared to their less social peers, per the results of a study by the Rush University Medical Center. But with fewer friends nearby, and increasing health concerns, it can be a struggle for older adults to keep from falling into an isolated lifestyle. There are, however, steps you can take to help the seniors in your life enhance their socialization.
For example:
Seek out volunteer opportunities in the community for your senior loved one.
Help him or her get involved with the local senior center.
Try to find (or start) a group for the senior that focuses on activities he or she enjoys, such as gardening or a book club.
Sign your loved one up for a class to help him or her form new friendships while learning something new.
Joining a gym or fitness center will help the senior stay physically and as well as socially active.
Studies show that having the support of relationships in a community protects seniors against mental decline and dementia. Consider these findings:
The Seattle Longitudinal studies and MacArthur study suggest social activity increases cognitive functions and wards off the risk of developing Alzheimer's.
In a study testing over 6,000 seniors across about 5 1/2 years, seniors having frequent social engagement had a slower decline in intellectual and memory abilities. Good mental capacity was maintained best in those people who were the most socially active.
The American Journal of Psychiatric Health published a study that showed social support helps protect against dementia.
The independent home care services offered by Hired Hands Homecare help enhance the lives of older adults through enhanced socialization. Whether it's sharing a companionable afternoon together playing games and discussing the latest news stories, or providing transportation and accompaniment services to get out and enjoy activities and events in the community, your senior loved one will look forward to visits from our friendly in-home caregivers. Call us at 866-940-4343 to learn more!
---
---