Emeli and Ana are the Dream Team!
---
---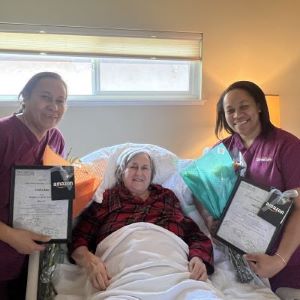 Please join us in congratulating Emeli as our Caregiver of the Month for May and Ana as our Caregiver of the month for June!
Emeli and Ana are currently our Live-In team for our client Darlene.  We recently got a chance to surprise them together as they were doing a shift change, and Darlene was so pleased to share in the celebration of her "Dream Team" as she refers to them.  Believe us… Emeli and Ana are truly just that- a DREAM TEAM!
Emeli and Ana have both REALLY raised the bar with the care they provide 24/7.  When we started providing assistance to Darlene, she had rather severe ambulation challenges, and was unsure if she would be able to walk again. As of a month ago, Darlene has made amazing progress and is now able to walk around the house with her team cheering her on every step of the way! Simply Amazing!
"Thank you Hired Hands Homecare for the recognition of Caregiver of the Month!  I'm blessed to work for a company that is so compassionate and caring for my client as well as me.  The office staff are the BEST, as they are always very helpful and understanding to my needs at work, which makes my work so much easier.  All the best Hired Hands Homecare ~  May we long continue our success!" says Emeli.
"First of all, thank you Hired Hands for recognizing me and my work this month. I am truly honored to be part of this agency where the Administrators go above and beyond to assure that their workers welfare is well taken care of! Being a mom has greatly contributed to my work as a Home Care Aide (caregiver). It requires lots and lots of patience and dedication. One can only see the result of this continuous dedication through our kids and clients' progress in their wheel of life. They are thriving when they put on a smile and when they smile, I thrive. This is what I call compassion, ensuring that my helping hands will put on a smile 😊" from Ana.
WOW!  Ladies, we couldn't agree with you more!  From the bottom of our hearts, THANK YOU for all you do!  It is truly an honor to work together, and we greatly appreciate you, and all you do!
~The HIRED HANDS HOMECARE Team
Emeli is pictured on the left (orange flowers), Darlene in the middle, Ana on the right (blue flowers).
---
---