Employee of the Month for Pleasanton!!
---
---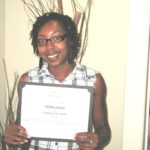 Melonie Timms has been chosen for the Employee of the Month for Pleasanton for June 2016. Melonie has so much compassion for her clients. Melonie interacts so well with her clients too. When Melonie and a client are together you can see them both light up. Melonie has a few different clients with very different personalities and she is amazing dealing with them all.
Melonie is an artist as well, she bedazzles all types of shoes. When Melonie isn't working, she spends her time with her beautiful daughter.
---
---