Experiencing Hearing Loss? Try These Communication Tips.
---
---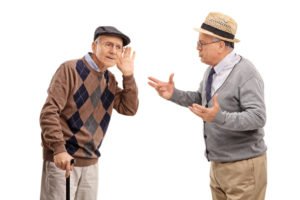 Background noises, fast talkers and those who mumble — these factors and others make it very difficult for those with hearing problems to participate in group discussions, and may even cause them to be left out altogether. People without hearing loss must recognize this challenge and remember to speak clearly and slowly, always facing the senior.
For the senior affected by hearing loss, the strategies below can help:
Tell the individuals you're with that you are experiencing hearing loss, so they know to modify their speech, face you when they're talking, or make other accommodations to help keep you in the dialogue.
Sit or stand where you can see the faces of all speakers.
Move away from noise or other background disruptions.
Request that those speaking repeat themselves when required, or repeat back the part of the message that you understood with a request for the person to repeat whatever part was unclear. (For example, "You went where?" "Who was the person who stopped by to visit you last week?")
Use what you already know about the person speaking to help provide clues on what is going on in the conversation, including the individual's interests or habits.
Stay educated about current events.
Make certain that you are well-rested before participating in an occasion where you will be listening to a lot of conversation.
It is helpful to know that hearing aids these days can often make up for the majority of hearing loss issues in individuals with diminished hearing, and surgery may be something for the senior to consider. Check with the senior's hearing specialist to determine whether any of the latest treatment options may help, and contact Hired Hands Homecare, trusted California senior care experts, for support as well. We offer professional, experienced, in-home care for older adults with hearing loss as well as any other factors of aging, allowing older adults to remain safe, independent and thriving at home through services such as:
Transportation to medical appointments and procedures, visits with family and friends, and fun outings
Running errands to pick up groceries, prescriptions, or any other required items
Light housekeeping and meal preparation
Friendly, nurturing companionship to participate in favorite activities and hobbies, conversations, taking walks together, etc.
Personal care such as help with bathing, dressing, hygiene, ambulation and transfers, etc.
And much more
Connect with us at (866) 940-4343 to arrange for a free in-home meeting and to take the first step in improving quality of life for your senior loved one in California.
---
---