Polypharmacy in Older Adults: Evaluating Risks and De-prescribing
---
---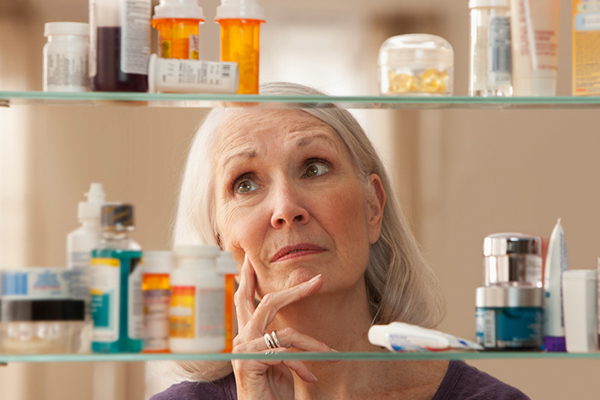 More than one out of every three 60-year-olds is currently taking five or more prescription medications, so it's no wonder that problems occur from overmedication. Polypharmacy in older adults is defined as "…when an adverse drug effect is misinterpreted as a new medical problem – leading to the prescribing of more medication to treat the initial drug-induced symptom," and can cause a number of additional health risks or worsen existing health conditions. 
It's a good idea for older adults and their caregivers to work together on a plan of de-prescribing. These tips can help:
Compile a list of all medications the senior is taking, including prescription meds, over-the-counter meds, and vitamins/herbal supplements, and share with the senior's physician and pharmacist.

Request an evaluation of the medications themselves as well as dosage levels. Often, negative side effects happen from receiving too high a dose of a medication, and reducing the amount prescribed may be effective.

Have a conversation with the senior's doctor about any lifestyle changes that could be made as an alternative option to prescriptions – such as following a better diet and exercise regimen to lower blood pressure and the risk of heart attack or stroke.

Carefully consider the benefits of medications. For instance, statin and blood pressure medications are only effective in about three out of 100 patients who take them for over five to ten years and have never experienced a stroke or heart attack. It's up to each person to decide whether preventive measures are worth any potential benefits that may be obtained.

In the same way, weigh the risks. All drugs come with possible side effects and health risks. Talk with the senior's prescribing doctor to discern whether the risks outweigh the health benefits that come from taking each med.

Pay special attention to sedatives. Tasha Woodall, associate director of pharmacotherapy in geriatrics at the Mountain Area Health Education Center, explains, "A lot of those medications continue to be appropriate for somebody's entire life. But the cumulative effect of having someone on three, four, or five psychotropic medications that can impact their brain can spell out a recipe for disaster in terms of falling and cognitive decline."
Reach out to Hired Hands Home Care, the leading providers of in home care in Pleasanton and nearby areas, for more strategies to improve quality of life for seniors, and to schedule a free in-home assessment to find out how our caregivers can help improve the health and wellbeing of seniors at home. Just a few of the many ways we can help include:
Medication reminders to make sure that meds are taken just as prescribed

Transportation and accompaniment to medical appointments

Errand-running, such as picking up prescriptions and groceries

Companionship and an extra pair of eyes to watch closely for any changes in condition and report them immediately
To learn about all of the communities where we provide our award-winning care, visit our Service Area page or contact us at (866) 940-4343 any time to learn more!
---
---