COPD
---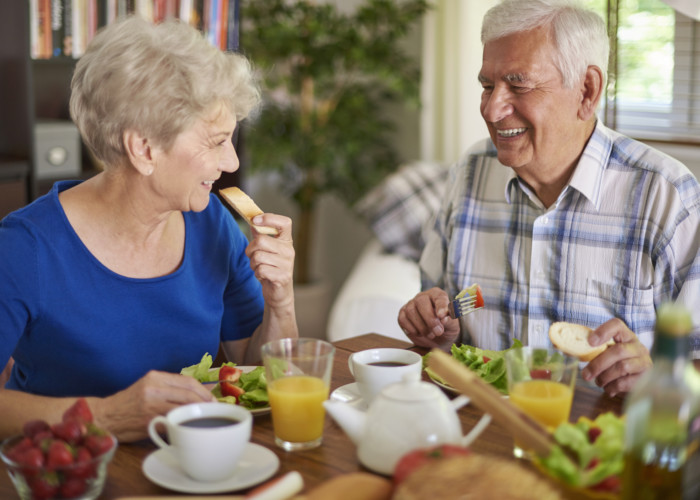 As outlined by the National Heart, Lung and Blood Institute, approximately 12 million adults are currently diagnosed with Chronic Obstructive Pulmonary Disease (COPD), and it's expected that another 12 million may be living with the disease without even knowing it. It's also worth noting that COPD typically occurs in middle age, with smoking as the biggest risk factor. Consistent exposure to dusts and chemicals also presents a high risk factor.
If someone you love has been diagnosed with COPD, living healthier can make a difference in symptom severity. As a matter of fact, eating a healthier diet can make those with COPD feel better, enhance the level of energy needed for breathing, and fight off chest infections.
These tips can help with better management of COPD symptoms:
Don't skip breakfast. For those with COPD, breathing burns ten times as many calories than in … Read More »
---
If you're providing care for a loved one who struggles with COPD, you certainly are aware that outdoor air pollutants can exacerbate symptoms. However, did you realize that bad air quality in the home can also be concerning? Cleaning the air in the senior's home can help everyone breathe more easily and be more comfortable.
The tips below from our California senior care experts can help:
No Smoking! Don't smoke or allow others to smoke in your loved one's home. If there is a fireplace in the person's home, be aware that it can also be a source of irritation for those with COPD.
Reduce Chemical Exposure. Household chemicals such as paint and cleaning products can aggravate COPD symptoms, so decrease the use of toxic chemicals and keep lids on cleaning products when not being used. There are also healthier cleaning choices like … Read More »
---
Chronic coughing. Shortness of breath. Wheezing. Think it might be an asthma attack? Before reaching for the inhaler or those over-the-counter cough drops, however, it might be time to consider if another culprit – COPD – could be a factor. As many as 12 million Americans are currently living with COPD (and another 12 million who are likely to have the disease but have not been diagnosed), so it's important to figure out the real cause behind the cough.
Here are some of the major differences between asthma and COPD:
Asthma:
Environmental factors such as cigarette smoke, dust, and pet hair can trigger asthmatic symptoms like coughing and shortness of breath.
Usually displays in patients in childhood, often by age 5.
Thought to be caused by genetics.
COPD:
Environmental triggers can exacerbate symptoms like coughing and difficulty breathing, but these symptoms are often present in a milder … Read More »
---
Sometimes, being diagnosed after struggling with debilitating symptoms can be a relief. Now, the condition has a name, and there's a plan to treat it! This is certainly true with COPD (chronic obstructive pulmonary disease). If your senior loved one has been struggling through symptoms such as chronic coughing, wheezing, and fatigue, receiving a diagnosis of COPD could be the first step needed to improve her quality of life.
Here's what you can expect from the doctor in determining if COPD is the culprit:
Assessment of the senior's health and environment, to include smoking, exposure to pollutants, symptoms, and family health history
Testing such as spirometry (breathing into a machine to check lung functioning), x-rays and blood work
Creation of a treatment plan
COPD symptoms can vary from person to person, and as a result, treatment plans can differ as well. Here are some of … Read More »
---