Watch for These Top Signs of Elder Abuse
---
---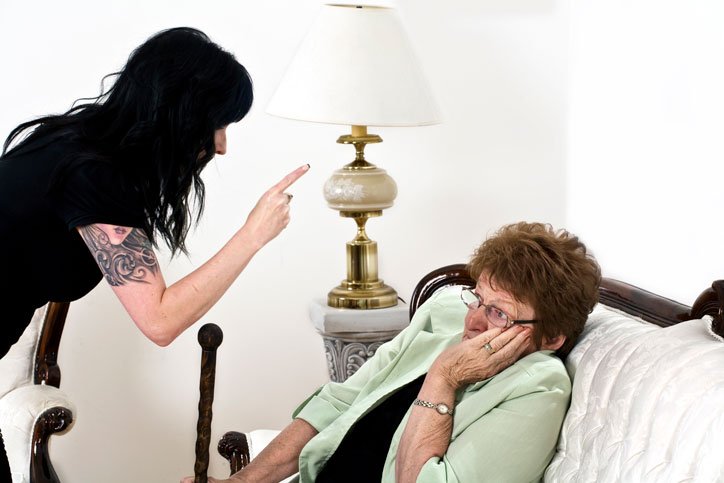 Providing the helping hand that empowers seniors to continue to be healthy, happy and independent is the intent of not only our professional senior care staff, but of each and every family caregiver who has ever helped care for a loved one. Because the health and happiness of older adults is so important to us, it's essential that we discuss a topic that can be difficult for many of us to even look into – elder abuse.
The CDC reports that approximately 500,000 older individuals are neglected or abused annually in the U.S. Not only that, but numerous other elder abuse cases are presumed to go unreported each year, which is why it's essential for family members to be familiar with possible abuse risks.
Below are some of the risk factors connected with elder abuse:
Dependence on others: Older adults who depend upon others for care are in many cases reluctant to report any abuse because they may feel unsafe or that their care needs will not be able to be met by others if the abuser is reported.
Decreased physical health and mobility: Dementia, Alzheimer's, or other impairments may raise an older adult's risk of being abused since the senior may be incapable of describing or verbalizing the abuse.
History of abuse: If the older adult was abusive as a parent, there is an increased likelihood for elder abuse, particularly if an adult child who was abused by the older adult is the main caregiver.
Social isolation: Social isolation commonly results when a senior loses his or her spouse or lives far away from family and friends, and it can set up the perfect atmosphere for elder abuse. Abusers frequently try to keep seniors isolated by:

Refusing to apply for economic aid or services

Switching social and healthcare professionals routinely to make it challenging to assess the older adult's health status

Limiting contact with the elder

Family caregiver stress or burnout: Stressed caregivers can become discouraged, leading them to lash out at the older adults in their care.
If a loved one is being cared for by a family member, friend, or other caregiver, be aware of these risk factors , call or visit as often as possible to evaluate the senior's health, and play an active role in his / her care.
At Hired Hands Homecare , top-rate home care company serving Santa Rosa, CA and the surrounding areas, we realize how important a senior loved one's health and wellbeing are, and we take the necessary steps to ensure we provide the highest level of care. Each and every member of our senior care team has gone through a comprehensive background check, reference checks, and a personal interview to confirm they meet our high care requirements. Contact us today at (866) 940-4343 to learn more about our California home care services .
---
---
---