Make This Holiday Season for Seniors Brighter: A Rainbow of Possibilities for Your Senior Loved Ones
---
---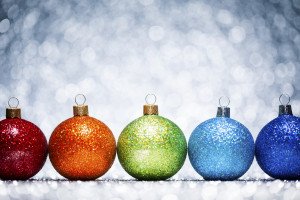 Everywhere you look this time of year, you'll see portrayals of the joys of the holiday season. But for many, the holiday season for seniors can bring about a sense of sadness and loss, as they recall holidays past when perhaps their health was better or when loved ones who have passed away were still with them. To help your senior loved ones beat the holiday blues, try some of these colorful tips:
RED: In some cultures, red denotes purity, joy, and celebration. What better way to celebrate the joy of the season than to offer assistance in decorating an elderly family member's house for the holidays? Don't forget to also volunteer to help take down the decorations after the holidays!
ORANGE: Put some logs on the fire or light some candles and cozy up to reminisce about special times and people. Often, older people whose memories are impaired may have difficulty recalling recent events, but find it easy to share stories and observations from the past.
YELLOW: Turn on some lights and get out of the house. Shorter days and less sunlight cause people to tire earlier, especially as they get older.
GREEN: Eat healthy and avoid alcohol. Watch out for those heavy or carb-loaded foods that make a person feel tired. Also, alcohol is a depressant and should be drunk at parties and gatherings with moderation or not at all, as it can interfere with medications and increase some symptoms of the holiday blues.
BLUE: Many seniors feel depressed and sad during the holidays but hide this from friends and family because they don't want to worry anyone by displaying these feelings. Encourage your loved ones to talk about it.
PURPLE: Make a senior feel like royalty and assign someone to be the day's companion to the senior, making sure he or she is comfortable. Social connectedness is extremely important at holiday times, and spending quality time with senior family members can make it easier for them to be social.
Another option to brighten the life of your senior loved one is to partner with a professional in-home care team, such as Hired Hands Homecare, the leading provider of Napa support services and care throughout the nearby areas. Our caregivers are fully trained, compassionate, and dedicated to serving the seniors in their care with the respect and dignity they deserve. In fact, we only hire caregivers that we'd feel comfortable taking care of our own loved ones. We invite you to see what other families are saying about us, and then contact us at 866-940-4343 to see how we can help you.
---
---