Senior Living Experts Share Benefits of Dementia Care at Home
---
Posted on September 18th, by Mark Winter in
Aging
,
Alzheimer's
,
Benefits of Home Care
,
Caregivers
,
Companion Care Services
,
Dementia
,
Family Caregivers
,
Homecare
,
Respite Care
,
Senior Health
,
Senior Independence
.
No Comments
---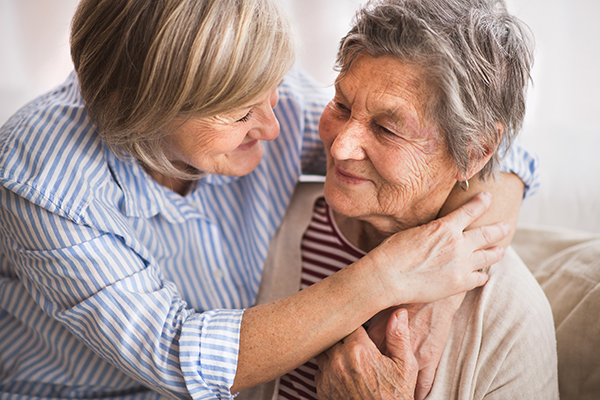 Although an incredible number of older adults are dealing with the challenges of Alzheimer's disease, an even greater number of family members are trying to cope with caring for them. Incredibly, nearly 75% of family caregivers are managing their older loved ones' dementia care needs by themselves, with only 26% seeking professional care services.
Of course, families want to do all they possibly can to satisfy their loved ones' needs, but dementia caregiving can lead to an extremely high level of both mental and physical stress. This takes a toll on the caregivers' own overall health over time, particularly once the disease progresses. And some family members think there is an all-or-nothing strategy: either manage their loved one's needs at home, or face moving him or her into nursing care.
Hired Hands Homecare, provider of compassionate dementia care in Pleasanton and nearby areas, offers an alternative that's good for seniors with dementia as well as their family caregivers: the addition of an experienced in-home dementia caregiver to give as much or as little respite care as needed. Here is why we believe dementia care at home is best:
Highly skilled care. Because our care providers are both trained and experienced in the many complex facets of Alzheimer's disease along with other forms of dementia, they can proactively cope with and more successfully manage even the most difficult of behaviors, such as wandering, aggression, sundowning, and more.
Improved safety. The potential risk of accidents is elevated for everyone with dementia. Even something that seems as uncomplicated as helping your loved one into the shower or onto the toilet can cause a dangerous fall risk. Professional care providers know exactly how to watch for and prevent falls, keeping both you and your family member safe from harm.
Sustainable aging in place. Many times, family caretakers become so stressed wanting to meet all of a senior loved one's needs in tandem with their own that a transfer to a residential dementia care facility appears to be inevitable. Yet partnering with a professional dementia care provider opens up the possibility of long-term, beneficial care in the home.
Peace of mind. Knowing your family member is in qualified hands lets you take a deep breath, relax, and step away from the stresses of caregiving for the essential breaks that alleviate stress as well as the potential for caregiver burnout and depression.
It's advisable to look into in-home dementia care choices as early in the disease as you can, to allow for a more seamless transition and also to ensure your loved one has the most effective care right from the start. Contact us online or call us at (866) 940-4343 to request a consultation and to learn more about our elderly care in Pleasanton and the surrounding areas. We can establish a highly personalized plan of care which will enhance quality of life for your senior loved one today and also as needs change in the days to come.
---
---