Dementia Exercise Suggestions for Each Stage of the Disease
---
Posted on February 12th, by Mark Winter in
Aging
,
Alzheimer's
,
Arthritis
,
Benefits of Home Care
,
Chronic Conditions
,
Dementia
,
Health
,
Medical News
,
Osteoarthritis
,
Senior Exercise
,
Senior Health
,
Senior Independence
.
No Comments
---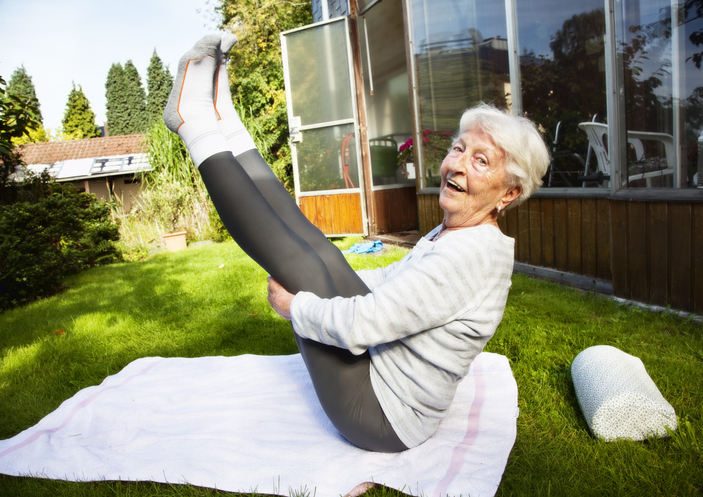 The many advantages of staying physically active are clear, but what is not as well known is that exercise can be extremely beneficial for those with Alzheimer's disease, for a number of reasons: reducing the risk for muscle weakness and other issues that stem from inactivity, easing the effects of psychological and behavioral challenges, and much more.
As with anyone considering starting a new exercise routine, the doctor should first be consulted. Then, try these dementia exercise suggestions, utilizing the following strategies per each person's individual abilities and the appropriate stage of  the disease:
Early Stages
Older adults in the initial stages of Alzheimer's disease can often still fully enjoy active and social exercises like walking, dancing, bowling, golf, and swimming, even though some degree of oversight may be required. Over time, more supervision will likely be required as the disease progresses.
Middle to Later Stages
The middle to late stages of Alzheimer's disease often include heightened levels of anxiety and confusion. As a result, any loud or overly-stimulating activities should be avoided. Repetitive activities, like pedaling on a stationary bike, walking, and even tasks like sorting laundry help to lower anxiety levels, as the senior does not need to make any decisions about the activity or try to remember what comes next.
Advanced Stages
In the advanced stages of Alzheimer's, toys are often helpful for encouraging hand-eye coordination. They are often brightly colored, easy to hold, and designed to stimulate the mind. Also, try stress balls or soft clay-like products, which can be squeezed to help strengthen the muscles in the hands.
Hired Hands Homecare's caregivers are trained and experienced in innovative, compassionate care for those with dementia, and we are always on hand to help families enhance quality of life for the older adults they love. We're adept in helping to effectively manage such difficult behaviors as sundowning, wandering, aggression, and more, and even offer overnight respite care to allow family caregivers the chance to get a peaceful night's sleep while knowing their loved one is safe and secure.
Contact Hired Hands Homecare, the experts in elderly care in Santa Rosa and the surrounding area, at (866) 940-4343 for more dementia exercise recommendations and to learn more about our professional in-home dementia care.  Hired Hands Homecare the experts in dementia care Pleasanton, CA families trust, can provide additional resources and tips specific to the challenges you're facing.
---
---