Help for Dementia Caregivers: Coming to a Place of Acceptance
---
---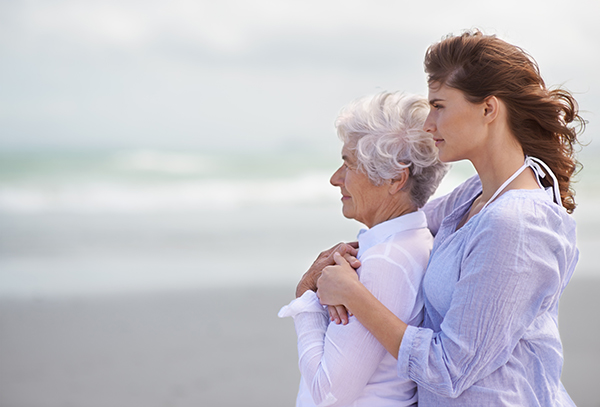 Receiving a diagnosis of Alzheimer's disease is life-altering – for the person being diagnosed, of course, but just as much for his or her loved ones. It's important for family caregivers to allow themselves ample time to process the changes to come and to find a healthy way to work through the various emotions that arise.
Because Alzheimer's is a progressive disease, one of the difficulties for caregivers is finding peace in the midst of each stage. And while providing care for a senior loved one is one of the most fulfilling and rewarding roles we can take on, it's not without its challenges as well. It can be helpful to use reflection as a tool to better cope with the challenges and changes. Hired Hands Homecare's dementia care staff recommend the following help for dementia caregivers:
Journaling. Keeping a daily diary of experiences, both good and bad, that you encounter with your loved one, how you reacted to those experiences, and what worked or didn't work, is a great way to both serve as an outlet for your feelings, and to provide you with encouragement in the later stages of the disease.
Empathizing. Try to step into your loved one's shoes and see the world through her eyes. Imagine struggling with daily activities that formerly could be performed without a second thought. This can help minimize frustrations and allow you to accept and celebrate the successes achieved, no matter how small.
Relaxing. It's so important to take time to care for your own mental health through whatever means is most effective: exercise, meditation or prayer, yoga, music, spending time in nature or with pets. Caring for yourself is a gift you give to your loved one; you can only provide the best care when you're refreshed and strengthened.
Additionally, it's important for family caregivers to pay attention to their level of stress. Caregivers can quickly become overwhelmed and overstressed, which can lead to a number of serious health concerns. Seek medical assistance immediately if you begin to experience signs of depression from caregiver burnout.
Most importantly, understand that caring for a loved one with Alzheimer's disease requires a network of support, and is never a role that one person can play independently. Partnering with someone skilled in specialized Alzheimer's care, such as Hired Hands Homecare, the top provider of elder care in Marin and nearby areas, ensures the highest quality of care for the individual with dementia by providing necessary respite for family caregivers. Contact us online or call us at (866) 940-4343 for additional Alzheimer's disease resources and trusted hands-on assistance at home. 
---
---