What is the Best Way to Assist An Elderly Parent After a Hospital Stay?
---
---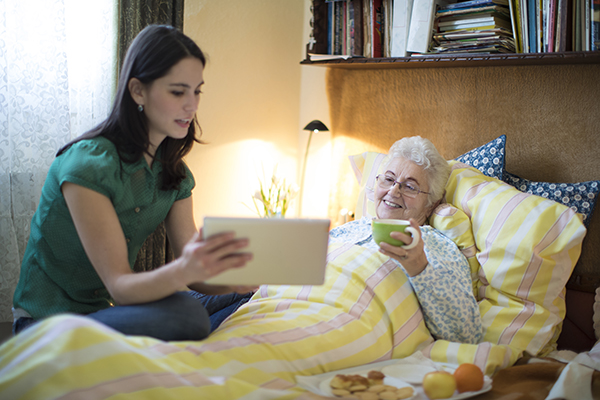 As experts in home care in Rohnert Park and other California cities, we understand that recovering after a surgical procedure can take time, especially for older adults. Not only do aging bodies take longer to heal, but together with reduced mobility and a multitude of directions for medications, physical activities, follow-up appointments, and dietary restrictions, there is a lot to help keep tabs on after a hospitalization. So what is the best way to assist an elderly parent after a hospital stay? 
Recent research conducted by IPC, The Hospitalist Company, revealed that nearly one out of every five discharged patients required assistance with at least one thing that had the possibility of affecting their recovery. Other similar studies have shown that bringing in professional in-home care assistance throughout the transition from hospital to home actually reduced hospital readmissions. 
Hired Hands Homecare in Santa Rosa and surrounding communities is here to assist seniors with safe transitions home from the hospital by providing trusted care to assist with recovery. We are able to start with post-discharge planning right after hospital admission to ascertain your senior loved one's needs, ensuring coordinated efforts and continuity of care.
We are able to work with the hospital's care team to create a recovery plan which includes:
Scheduling follow-up appointments

 

A list of medications, allergies and dietary restrictions
Exercise and activity routines
Medical equipment
Medical issues and possible medication side effects
Once back in the home, we are able to:
Prepare nutritious meals
Help with bathing and dressing
Ensure medications are taken as prescribed

 

Help connect the senior with area resources
Provide transportation to and from follow-up medical appointments
Below is one example of a family we helped with our professional home care services:
Mr. L's adult daughter is an incredibly busy working mother. When Mr. L had to go in for a surgical procedure, his daughter did not understand how she could manage her father's care after he was discharged. Hired Hands Homecare stepped in to assist. 
With routine visits, our caregiver monitored Mr. L, including his diet and physical exercise levels, confirming medications were taken according to the doctor's plan. We provided regular reports to Mr. L's family, keeping them informed as to his recovery and contacting them immediately whenever there was a concern. Additionally, we continuously monitored Mr. L's progress towards care goals and any necessary changes in care were communicated to the doctor. 
We recognize that most senior loved ones would rather recover in the comfort of home than a facility. By working with you and with doctors' recommendations, Hired Hands Homecare's compassionate and professional home care staff can implement a care plan that is the best for your senior loved one.
Making a transition from hospital to home a smoother process, and making sure your loved one is on the path to recovery is our main concern. Call us at (866) 940-4343 or complete our online form to request an in-home evaluation. We'd love to talk to you and share more about how we can support your loved one at home with compassionate, professional home care in Rohnert Park and the surrounding areas.
---
---