We'd Marry Mereseini!
---
---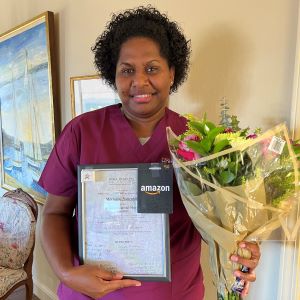 Today, we are honored to present Mereseini N with our Caregiver of the Month award!  Since Mereseini joined the Hired Hands Homecare team, she has quickly become one of our best Caregivers.  Every day, she brings her positive energy to brighten her Clients' day.  Her passion of helping others really shows, as she is a great team player, and goes above and beyond regularly without hesitation.  On top of that, everyone knows we can rely on her whenever needed.
Mereseini, thank you so much for all you do!  We are truly lucky to have you on the Hired Hands Homecare team!
---
---