Discover the Astonishing Benefits of Art in Dementia
---
---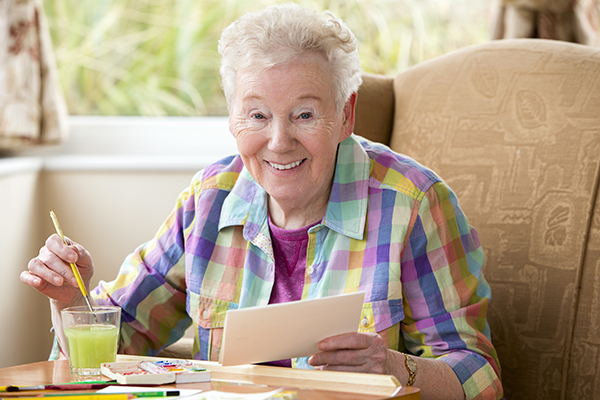 They say a picture is worth a thousand words, and when it comes to comprehending the thoughts and feelings of someone with dementia, no truer words have been spoken. Artistic expression is vital for all of us, but the benefits of art in dementia are especially remarkable, including enhanced socialization and physical health, a calmer, more peaceful demeanor, and even improvements in both apathy and self-worth.
Since artistic qualities are not reliant on cognitive or language skills or impairment, the chance to engage in creating individual artwork as well as viewing the artwork of others provides the person with the opportunity to tap into their feelings and express them in a meaningful, productive way.
A number of art museums around the nation are offering art appreciation programs for those with dementia, following the lead of the Museum of Modern Art in New York, which developed the Meet Me at MoMA program. Studies of the program, which includes an in-depth discussion on several pieces of the museum's artwork, revealed improved mood in the participants, a heightened sense of connectedness and lowered emotional distress following the sessions. The program is also helpful for caregivers, who are able to enjoy the outing and to see the joy and engagement of a senior they love.
To investigate art options for someone in your life with dementia, contact the in-home care team at Hired Hands Homecare, the top provider of dementia care in Pleasanton, CA and the surrounding areas. We love helping seniors with dementia realize their fullest potential, and are always available to assist with a variety of appropriate artistic endeavors, museum outings, and more. You can reach us online or by phone any time at (866) 940-4343.
---
---