Helping Your Parents Downsize? Here's What You Need to Know.
---
---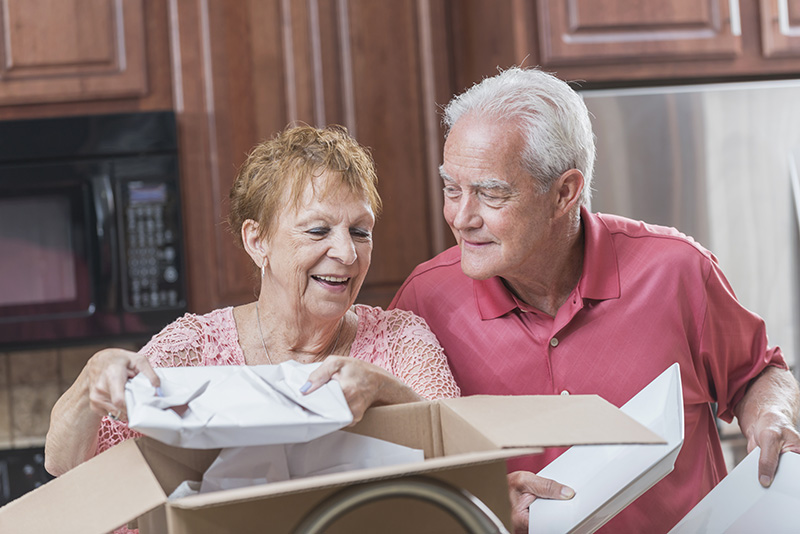 Take a moment and look around your home and surroundings – the pictures on the walls, collectibles, furniture, books, and memorabilia that all are part of the story of your life and who you are as an individual. Now think about having to part with most of those items in order to move into a smaller home or a family member's home. You can imagine how overwhelming it would feel. It's important to keep this in mind if you're helping your parents downsize.
How Can I Help Make Downsizing Easier?
If your parents are faced with the need to downsize, there are a number of steps you can take to simplify and ease the process. These guidelines from a professional organizer are a great place to start:
Plant the seed early. In a perfect world, you should begin conversations about downsizing before there's an urgent need. This allows your parents time to think through which items are most important, and to develop a plan for what to do with items they are willing to relinquish.
Bring in other family members. Parting with meaningful items is often easier if they're being passed on to loved ones. Plan a get-together at your parents' home with your siblings and any other close family members, where your parents can share stories about beloved items and figure out who would be best suited to give them a new home.
Include an objective third party. It's also helpful to include someone who does not have a vested interest to help facilitate the downsizing process and help resolve any potential conflict. A quick search online for professional organizers in your area is worthwhile if you think there may be difficulties with helping your parents downsize.
Remember to take it one step at a time. Looking at the full picture of a home full of belongings to relocate can quickly become overwhelming. Focus on one room to begin with, and take plenty of breaks throughout the process.
Hired Hands Homecare, the leading provider of Sonoma home health and care throughout the surrounding areas, is here to help as well in a variety of ways to simplify the downsizing process for seniors. Just a few of the many ways we can help include:
Running errands, such as picking up boxes and packing materials

Helping with light housekeeping, such as dusting and vacuuming as items are removed

Providing companionship to reminisce and listen to stories about cherished items

Supply transportation for seniors as needed

And much more
Contact us online or call us at (866) 940-4343 and request a complimentary in-home consultation to allow us to answer any questions you may have and to share more about how beneficial our home care services are for the older adults in your life.
---
---