What Can You Do When Family Members Refuse to Help With Senior Care?
---
Posted on January 26th, by Mark Winter in
Aging
,
Alzheimer's
,
Benefits of Home Care
,
Caregiver Support Tip
,
Dementia
,
Depression in Seniors
,
Family Caregivers
,
In-Home Care
,
Pleasanton Senior Care
,
Resistance to Care
,
Respite Care
,
Senior Health
,
Senior Independence
,
Senior Loneliness
,
Senior Safety
.
No Comments
---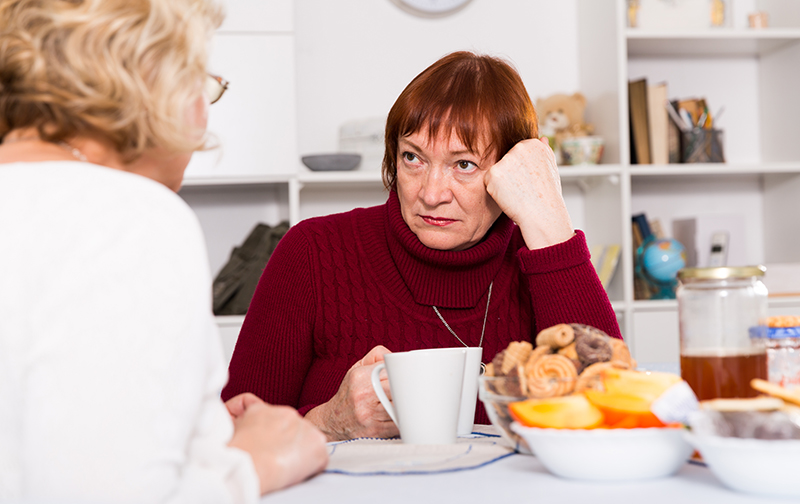 If you find yourself handling all of the care responsibilities for an aging parent while your siblings distance themselves from offering help, you're not alone. In fact, as many as one out of every two family caregivers are taking care of an aging loved one on their own, according to a recent report from AARP. What can you do when family members refuse to help with senior care?
There are several reasons why siblings may shy away from supporting you in the care you're providing. We've compiled the most common, along with what you can do to remedy the situation.
They don't realize there's a need for help. It may very well be that from the outside looking in, you already have everything covered and running smoothly, so you don't need their assistance.
What you can do: Have an open, honest conversation, explaining the stress you're under. Invite your siblings or other family members to stop by to visit during a time of high intensity care needs. For instance, while you're making dinner and helping the person get ready for bed, they can see for themselves the many tasks that are involved, and you can enlist their help.
They don't know how to help. Although to you it may seem intuitive to simply jump in and take care of a senior's needs, that isn't the case for everyone.
What you can do: Put together a list of all of the tasks that you could use help with, including the days and times that support is needed, and ask for volunteers.
They're uncomfortable or afraid. For a person who has never provided care for an older adult, this responsibility can be truly daunting.
What you can do: Ask them to "shadow" you for a day to gain confidence in the specific tasks that they feel uncomfortable with. This kind of hands-on training can make all the difference.
Sometimes, however, no matter how much you try, your family members may still be unwilling to help. Never fear; there's another solution you can always depend on!
As an award-winning provider of home care and in-home dementia care in Pleasanton, CA and the neighboring areas, the caregivers at Hired Hands Homecare are always on hand to work with you to meet the care needs of your loved one. Each person on our caregiving team receives full training and is experienced in helping with a full range of senior care needs, including:
Meal planning and preparation, according to any dietary restrictions

Transportation and accompaniment to medical appointments and procedures or fun outings

Running errands, including grocery shopping, picking up prescriptions, and more

Companionship for conversations and engaging activities

Light housekeeping

Personal care, including safe support during baths/showers, walking, transferring, etc.

And much more
Contact us any time either online or at (866) 940-4343 to request a free in-home consultation to learn how a professional care partner from Hired Hands Homecare can help both you and the older adults you love!
---
---