Geriatric Care Management
---
"Worrying is using your imagination to create something you don't want." – Abraham Hicks
Worrying can quickly become a way of life for family caregivers. Between age-related concerns, chronic health conditions, and trying to balance a plethora of other commitments, it's no wonder that anxious thoughts tend to overtake positive, peace-inducing ones, making it difficult to know just how to ease caregiver stress.
How Can You Alleviate Caregiver Worries?
It is possible, however, to take the energy you're exerting for worry and changing it into productivity. These three simple steps are a great place to start:
To start, write it all down. Worrisome, anxious thoughts have a tendency to swirl haphazardly through our minds. If you write down your thoughts, it corrals them into manageable chunks, while giving … Read More »
---
Posted on June 16th, by Mark Winter in
Benefits of Home Care
,
Care Manager
,
Caregiver Support Tip
,
Chronic Conditions
,
Geriatric Care Management
,
Health
,
Medications
,
Senior Health
,
Senior Independence
,
Senior Medical Care
,
Senior Safety
.
No Comments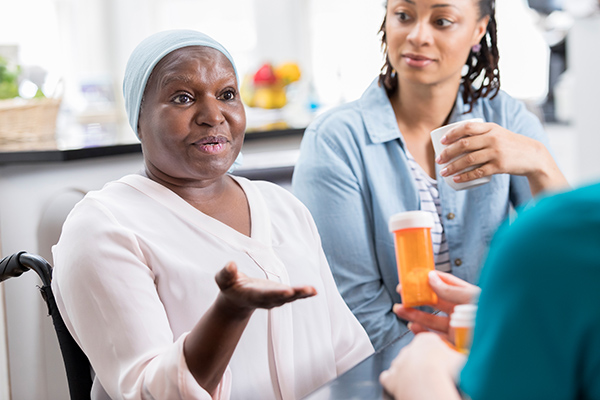 When it comes to chronic health care, seniors are the experts, hands down, with up to three out of four seniors affected by a number of conditions that are ongoing, necessitate long-term medical treatment, and place restrictions on activities. With the never-ending barrage of bloodwork as well as other tests, physicians' appointments and procedures, and medications, managing chronic diseases usually takes both a physical and emotional toll, and may quickly become daunting.
Dr. Mary Tinetti, chief of geriatrics and internist at Yale School of Medicine, said, "Once you get three, four, or five and six diseases, several things happen: Number one, almost guaranteed, trying to get one of these diseases under control is going to make one of the other … Read More »
---
Determining when to shift focus from proactive cure attempts to hospice care can be difficult for the loved ones of someone diagnosed with a life-limiting condition. Understanding what hospice care is and the benefits it provides is a crucial first step. Hospice care offers supportive social, emotional, and spiritual services to the terminally ill and their families, primarily in the patient's home.
Hospice is typically recommended when:
The senior's physician does not believe there is a viable treatment option available.
The prognosis is six months or less to live.
The patient is enduring treatment that is neither life-prolonging nor enhancing quality of life just to avoid addressing the unpleasant facts with family and loved ones.
Family and loved ones are postponing a discussion about end of life because of a … Read More »
---
Posted on April 29th, by Mark Winter in
Aging
,
Benefits of Home Care
,
Family Caregivers
,
Geriatric Care Management
,
Health
,
Napa Home Care Planning
,
North Bay Home Care
,
Paying for Home Care
,
Respite Care
,
Senior Health
,
Senior Independence
.
No Comments
We all desire the best for our loved ones – it's only natural. Yet in some cases when families are involved in an older person's care, feelings about what is best may clash. This can cause family members to fight with each other as opposed to working together. This is when it's often a good idea to enlist the help of an outside person like a geriatric care manager (GCM), one who realizes what seniors need for long-term care and how to accomplish getting this care.
---