Di Anna is an Outstanding Sonoma Caregiver!
---
---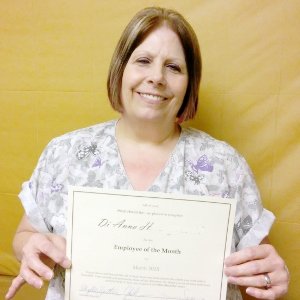 Hired Hands Homecare Sonoma is proud to announce that Di Anna H is our Caregiver of the Month for March 2015!   We are honored to have had the joy of working with Di Anna since 2007! Di Anna is organized, thorough in her reporting and never fails to keep her scheduling commitments. Thank you, Di Anna, for your dedication to excellence!
Recently, some of the families that we work with commented that: 
"I am very happy with everyone there, especially with Di Anna. Di Anna has kept herself available for fill-ins these past few weeks and has helped us keep schedule continuity for June, which is extremely important to our family."
 "Laura reports that her family 'just loves' Di Anna!"
 "Mrs. C gives a resounding applause for Di Anna, saying she is a 'perfect caregiver'!!!"
 "I called Renee to ask how she thought things were going and she said everything is great. They are very pleased with Di Anna and think she is doing a very good job!"
Mrs. Cl: "My mother feels Di Anna is an excellent and caring caregiver. She has great compassion and is ready and willing to assist in any way needed. She is punctual and presents in a professional manner. Di Anna is proactive in her care."
and lastly… 
"Di Anna is an absolute blessing. She's obviously dedicated to her job. From the first day she had it down. She's enthusiastic and upbeat. She's willing and efficient and just a joy to have around. Thank you for sending her to us; we want to keep her! El likes her and that's a comfort. Gratefully, Eva A. (A professional Caregiver in her own right!)."
So, Di Anna… we wholeheartedly say THANK YOU for everything you give to the families we work with.  We are so lucky to have you on our Team!
---
---