We Love Luisa!
---
---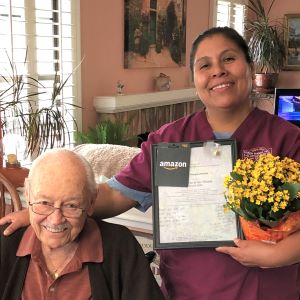 Please join us in celebrating Luisa VP as our latest Caregiver of the Month!
Luisa joined the Hired Hands Homecare team in 2020 and has been such a hard worker every day since!  Luisa is always dependable and happy to jump in and help in any way she can. She has assisted several different clients remain comfortable in their homes and over the past year, has been assisting Jim 4 days per week.
We recently dropped in on her while she was on shift to present her with her Caregiver of the Month Award.  It was additionally exciting, as Jim and his family really wanted to join in on the fun, showing their appreciation for all Luisa does for them.  We were really happy that she felt so honored and appreciated!  Furthermore, Luisa enjoys working with us so much that she recently referred her good friend Viridiana to the Hired Hands family, and she has been such a great addition to the Team!
Congratulations Luisa! We REALLY appreciate you… and ALL you do!
~ The HIRED HANDS HOMECARE Team
---
---