Marin
---
Posted on August 31st, by Mark Winter in
Aging
,
Alzheimer's
,
Benefits of Home Care
,
Caregivers
,
Dementia
,
Health
,
Homecare
,
Marin
,
Napa
,
North Bay Home Care
,
Pleasanton Senior Care
.
No Comments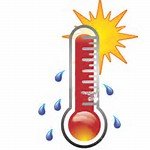 In the Bay Area, they're forecasting TRIPLE DIGIT HEAT for the upcoming Holiday Weekend!
We all suffer in hot weather. However, for elderly and disabled people and those with chronic health conditions such as vascular disease or diabetes, the weather does not have to hit 100 degrees to cause heat stress or even deadly heat stroke.
As we age, we gradually lose the ability to perspire and regulate our body temperature. This is why older people tend to overdress — they don't feel heat the same way anymore. Heart rates do not speed up-or return to normal-as fast during exercise. Older skin also thins and offers less protection from the sun. Poor circulation, heart, lung and kidney diseases, and high blood pressure increase the risk for heat-related illness. Being overweight or underweight also increases risk.
Medications taken for a variety of diseases … Read More »